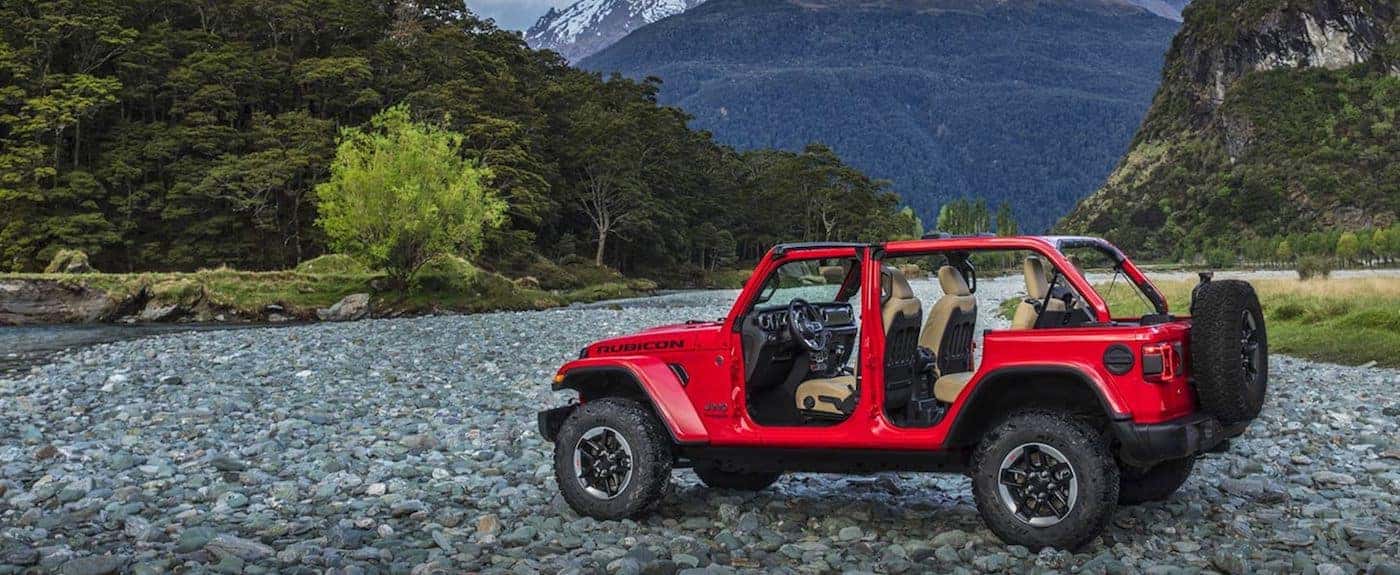 Wondering how to take the doors off a Jeep? When you choose a Jeep Wrangler, you can add an extra element of adventure to every Oklahoma City ride by taking your Jeep apart! This model includes removable doors and added parts to enhance your overall driving experience, and is an excellent option for those who want complete control over their commute. If you'd like more information on how to take the top off your Jeep Wrangler or how to remove its doors, read on!
How to Remove the Doors on a Jeep
The first step of taking the doors off your Jeep Wrangler is to bring down the windows (provided that your model has windows) in order to protect the glass. Here's what you'll do next:
Disconnect power cables: You can do so by removing the footwell under your dashboard or by the b-pillar. This part should come off if you remove the clip that attaches it.
Remove door straps: This part is fairly simple; all you'll need to do is gently lift the door straps off their hooks.
Remove the bold from the door hinges: After you do this, you'll want to gently slide the door off and away — and you're done!
As you can see, taking your Jeep apart only requires a few steps! Then you're able to drive doorless through Mustang. Just make sure that you store the doors somewhere safe and dry. If you struggle with the process at all, lubing the door hinges can help the doors slide off easier the next time you decide to take the doors off your Wrangler!
Why Take the Doors Off My Wrangler?
Wondering why you'd want to take the doors of your Jeep Wrangler? This model's doors are removable to make it the ultimate adventure vehicle. Off-roading through El Reno or taking the unbeaten path with your doors off creates an unparalleled driving experience. Many outdoor enthusiasts like the Jeep's removable panels because they can experience the breeze and elements during their drive.
Additionally, taking off the doors of your Jeep can help with overall fuel consumption because you are removing weight from the vehicle! If you're taking a long adventure, removing the doors or taking the top off your Jeep can improve both your driving experience and fuel economy.
Another reason to take off the doors on your Jeep helps with the overall fuel consumption or
How to Take a Top Off a Jeep
Now that you know how to remove doors, it's time to learn how to take the top off your Jeep. This only adds to the immersive experience. However, many Jeep experts recommend relying on a certified service department for this step rather than attempting it on your own. Removing your Jeep's top can be tricky on your own, and you could risk permanent damage to your vehicle if you make a mistake. If you need help taking the top off your Jeep, simply schedule a service appointment and our certified technicians can help you out!
Rely on Westpointe CDJR for All Your Jeep Needs
Whether you have questions about how to take the doors of your Jeep or need to know what to include in your car's emergency kit for your next outing, we can assist you! Simply contact us at your convenience, and a team member will get back to you promptly. We hope you enjoy each adventure in your Jeep Wrangler!