How to Remove Stickers from a Car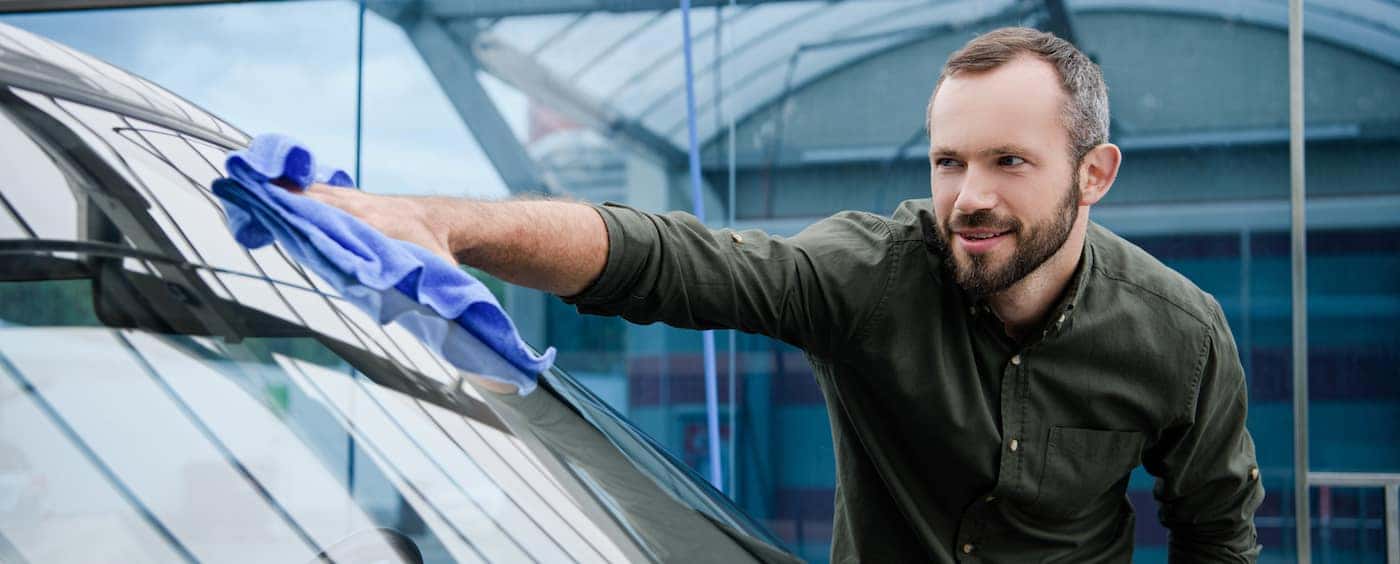 It doesn't matter how they got there – if you've got an unwanted sticker on your car, we understand how frustrating it can be that it doesn't come off as easily as it went on. Whether the kids got to the sticker pack and decorated the interior windows, you've got old parking passes on your windshield, or you no longer want those bumper stickers, we have tips and tricks to help you remove them without causing damage to your vehicle.
Find out how to remove stickers from your windshield or windows below, or get other tips from our service department at Westpointe Chrysler Jeep Dodge, serving drivers in the greater Oklahoma City area. Whether you need help with routine maintenance or removing the doors from your Jeep, we can help.
How to Get Stickers Off Car Glass: Windshield or Interior Windows
There are several different solutions you can use to remove a sticker from your windshield – or even your car windows. Here's a guide to get stickers off your windshield.
Spray isopropyl alcohol, window cleaner, or Goo Gone on the windshield. Generally speaking, Goo Gone is the easiest option because it's chemically designed to break down sticker adhesive effectively. But if you don't have it on hand, window cleaner or rubbing alcohol should work. As a last resort, you may try to use ice.
Allow the liquid to sit for a few minutes, or hold ice on the sticker for a few minutes.
As for how to remove sticker residue from a car? Use a thin, sharp razor blade to chip away at the sticker and any remaining residue. An X-Acto knife will do. Use caution and always motion away from your body.
If there's still residue left on the windshield, use WD-40 or Goo Gone to loosen it up, then remove what's left with the razor or X-Acto knife and wipe it clean.
How to Remove a Sticker from the Car Body
To remove a sticker from your car body – usually on the bumper – there are some different steps to follow. If you're concerned about removing decals on your own, you can always contact our service department for advice or help.
Remove dirt from the sticker and surrounding area.
Apply heat from a hairdryer or heat gun to the sticker for a few seconds, beginning in the middle and then heating the edges.
Use a credit card to get under the sticker and scrape up the adhesive. Note: Do not use a razor blade on the car body; using a razor blade can damage the car body and remove paint.
Repeat these steps until you get rid of the sticker.
Wipe clean with the aforementioned solution.
Get Trusted Auto Service at Westpointe Chrysler Jeep Dodge!
From removing stickers to cleaning floor mats and unlocking your steering wheel, our service department is happy to provide Mustang and El Reno drivers with tips and tricks we use here in the shop to make car shine inside and out. For any other maintenance needs, feel free to schedule a service with our experienced technicians. Contact us with any other questions about service, finance, or our new inventory!
More From Westpointe Chrysler Jeep Dodge
Searching for an affordable new pickup truck that looks and plays the part of capable towing and hauling machine for your Oklahoma City and Mustang adventures? Stylish, affordable, capable, and well-appointed at any trim, the 2020 RAM 1500 helps you make more of every daily drive. Plus, with six different trim level options, this new RAM…

The Dodge Charger is a bold and powerful car that always turns the heads of Yukon drivers, and the 2020 model is no exception. Take one ride in a Dodge Charger and you'll be hooked! You'll find the muscle is paired with a gorgeous Dodge Charger interior, and now Dodge brings new designs and colors…

The exciting 2020 Jeep Cherokee has hit the streets and offers Oklahoma City drivers the perfect combination of form and functionality. The Jeep Cherokee interior is filled with comfort and convenience features to make your Mustang commute easier than ever. The Cherokee interior also boasts impressive cargo and passenger space so you can bring all of…